Spamhaus, a global leader in IP and domain reputation, has published their quarterly update on domain reputation for Q3 of 2022.  The report is composed of data collected by experienced researchers, used to protect 3 billion users around the world.
The report identifies trends in newly registered domains.  New domains are commonly used for malicious activity, especially within 24 hours of being created.  Insights into these new domains can help organizations protect themselves from cyber threats.
Based on the Spamhaus Q3 2022 Domain Reputation Report, 15+ Million domains were newly registered last quarter, averaging 5.2 new domains registered per month.  Some key finding about these domains:
While the majority of new domains were generic top level domains (gTLD), there was growth in the number of new country code top level domains (ccTLD).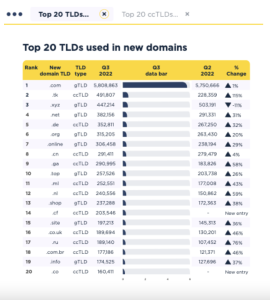 The word "vacation" has reappeared as a top trending term in new domains, after nearly disappearing due to Covid-related travel
restrictions. "Service" was the highest trending term in new domains for the second quarter in a row.
Many of the top phishing terms (table below) include technology brands.  Newly registered domains commonly used are "amazon,
"icloud", "apple". The use of brand names helps the URL look more legitimate to bait clicks.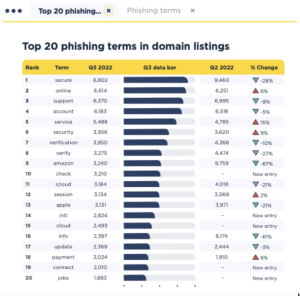 Read the full report here: Spamhaus Quarterly Domain Reputation Update – Q3 2022 
Want to learn more about newly registered domains, and our threat intelligence data-sets?  Contact SecurityZones info@securityzones.net