SURBL - RPZ
Filter / block resolution of bad domains at the DNS Level.
SURBL provides highly accurate and effective domain threat intelligence. SURBL RPZ allows this data to be used at the DNS level to deny or modify the resolution of low-reputation domains. Protect users from visiting objectionable or dangerous spam, phishing or malware web sites using DNS RPZ.
Comprehensive: ~800,000 current, active, bad domains
Up-to-date: Data added or removed every 1-2 minutes
Proven: Currently used to protect 1 Billion+ users
Protection from domains involved in malware and phishing, plus cracked and abused sites
From the World's First RPZ Data Provider
Help prevent identity theft, phishing attacks, malware infection, loss of revenue due to visiting infected or malicious sites. Made possible by SURBL's highly-regarded, multi-sourced, real-time domain intelligence.
How Does it work?
SURBL DNS RPZ
SURBL Response Policy Zone (RPZ) provides fast, dynamic threat intelligence to defend against advanced malware and phishing sources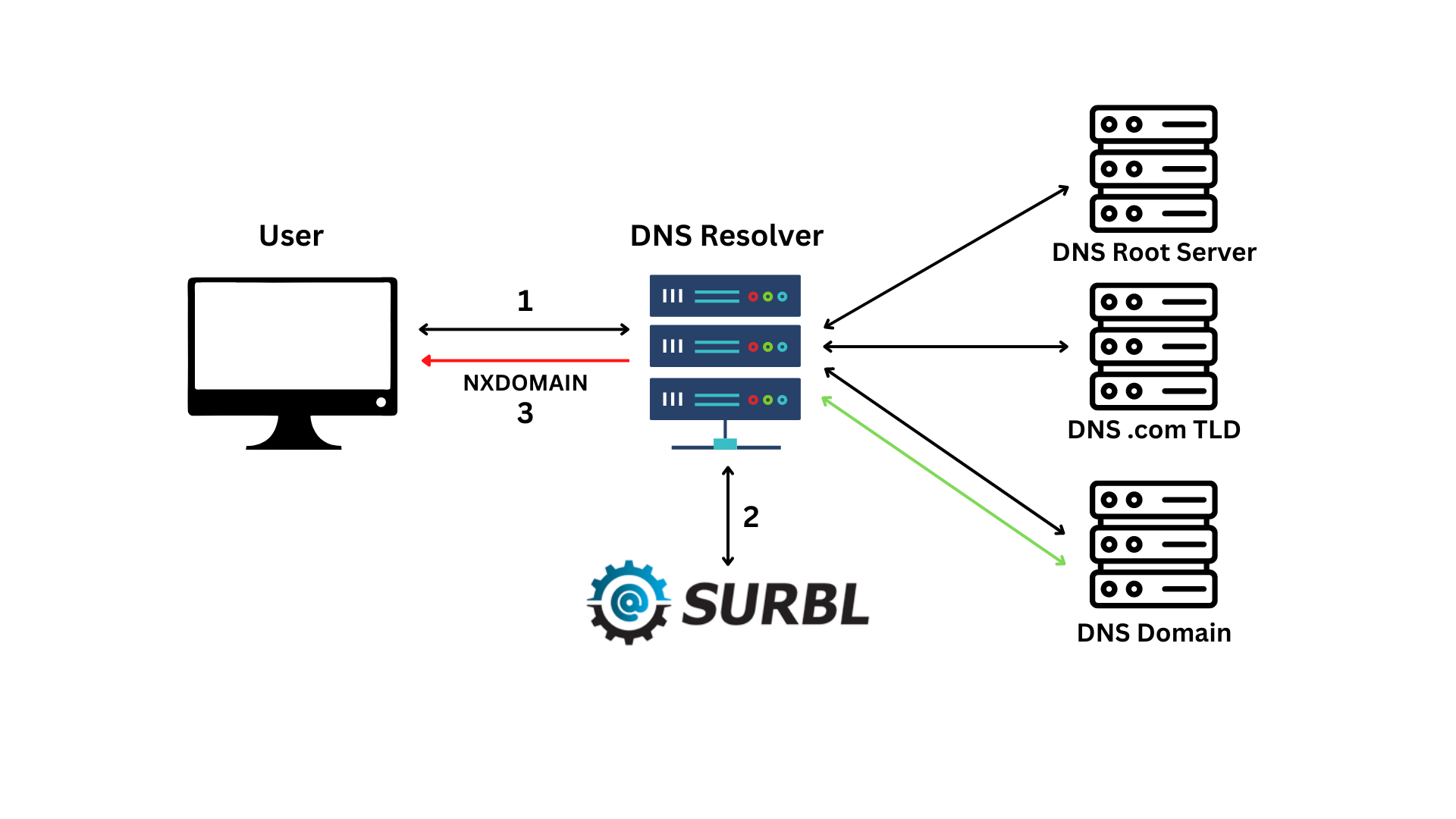 DNS RPZ protects your systems and users by blocking websites hosting cyber threats, including spam, phishing, and malware.
RPZ implements SURBL's real-time threat intelligence domain data at the DNS level. DNS resolvers utilize SURBL RPZ data to protect users trying to visit known bad domains.
User submits a request to the DNS Resolver.
DNS Resolver queries the SURBL Response Policy Zone feeds to assess if the domain or related IP address is a known malicious threat.
If domain being queried is malicious, the DNS Resolver will be re-directed to stop the user from accessing the bad domain. Blocked domains will be re-directed to "NXDOMAIN" or a defined modified value.

If the domain is not listed in SURBL RPZ, then DNS request will resolve.
SURBL RPZ data is available by private incremental zone transfer using recent versions of BIND.
Using SURBL RPZ improves detection and prevention of phishing attacks, malware infections, identity theft, and loss of revenue.
SURBL DNS RPZ
Key Features & Benefits
Comprehensive Data: SURBL data feeds have ~800,000 known malicious domains.  Researchers specialize in hunting the hard-to-detect threats, like phishing, malware, and bot-net sites. 
Updated Every 1-2 Minutes: Data feeds are continuously being updated. New domains are added or removed every 1-2 minutes. System and users are protected from new threats as they are discovered. 
Accurate, Near-Zero False Positives:  50+ checks are in place to assess domain reputations and ensure accuracy of data, so only bad domains are blocked. 
Easy Implementation: RPZ Data is made available via private incremental zone transfer. 
Low Cost Solution: Works with current hardware and DNS appliances. Compatible with most recent versions of BIND.
Minimize Risk: Enhanced protection from phishing attacks, malware infections, identify theft, loss of revenue and more. Safeguard your organization from these detrimental cyberthreats. 
Maintain Control of your DNS Infrastructure: We deliver our RPZ zones directly to your resolvers, eliminating the need to point to a cloud server. 
SURBL DNS RPZ
Organizations benefiting from DNS RPZ
Design the best set of data feeds to meet your needs!
Experience improved cybersecurity and stop phishing emails, ransomware, malware, and other cyber threats. Sign up for your free consultation and receive an in-depth technical deep dive and a 30-day free trial.